Fortress Cat Enclosure

The Fortress is our most popular cat enclosure being a convenient size the Fortress will go in a fairly small area. Down the side of your house or on your decking or patio. There is enough room for a 2nd day bed, for more than 1 cat. The enclosure is 180cm long x 90cm wide x 180cm high, 6x3x6ft, the ground area is 180 x 90 cm. See below for exact measurements.
The kit contains the 1 x Fortress, 1 x day bed, 3 steps, assembly clips, PDF instructions and ground pegs to secure it in place.
If it is going on a hard surface we recommend securing it in place with 6 galvanized Tec-screws. However it will also sit in place without being secured down for those that want to be able to move it around the yard. We recommend connecting the enclosures to your house or building with some tunnel Runners going to a cat door in the window or wall, to create a cat run that allows your cat to do as it pleases.
You can also add some clear polycarbonate roofing to keep out the rain, allowing a dry area for a sand box. Have a sand box (litter tray) with dry loose dirt and or sand and your cat will love using it. We recommend having a litter tray inside and out.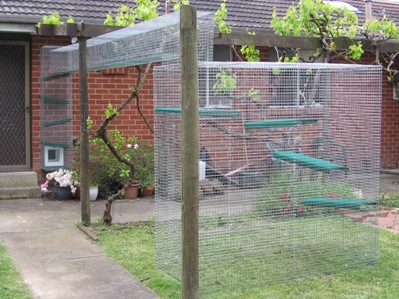 Product Specifications
Fortress Eco Kit $310.00 (economy kit)
Heavy Duty Galvanized Welded Wire Mesh
25x25 mm Squares x 2mm Diameter
1760 L x 880 D x 1760 H mm
Door Opening Size: 1010 H x 535 W mm
Economy Kit Contains: 1 x Fortress, C-clips for assembly, Ground Pegs and PDF instructions.
Complete Kit Contains: 1 x Fortress, 3 Steps, 1 Day Bed, C-clips for assembly, Ground Pegs and PDF instructions.
Optional Extras
C-clip Pliers (enclosure assembly)
2nd Day Bed
Flat Roofing (clear polycarbonate)
Gable Roofing (timber or clear polycarbonate)
Timber Toilet or Sleep Box
Steel Frame Door
Recommended Free Download...
This free 12 page report is full of pictures and ideas to help you plan and decide on the right cat enclosure and cat run, to suit you, your cat and your backyard.
---
Download Price List

---
Related Products
Cat Enclosures
Gate House Enclosure
Watch House Enclosure
Slimline Palace Enclosure
Castle Cat Enclosure
Palace Cat Enclosure
Used Cat Enclosures
Cat Enclosures Home