Cat Tunnels - Runners
We have 3 types of Runners. Ground Runners Aerial Runner and Vertical Runner. Ground Runners go on the ground and is held down with ground pegs usually they don't have a base in them.
The Aerial Runners have a base in them so they can go above the ground, e.g. along the fence line, suspended from veranda or eaves.
Using runners is the best way to allow your cat the freedom to come and go they please. Vertical Runners come in handy if you need to go up over a path to get the runner out of your way.
The cat's normally love to be up high so it is a win-win for all. For those that are not familiar with vertical it means straight up and down.
The Runners can be used as a stand alone product, meaning that they don't have to be linked up to a Cat Enclosure. You may like to run the Aerial Runner along the fence line, or around your house under the eves, this idea is particularly useful if you have other animals in the family that don't get along with your feline.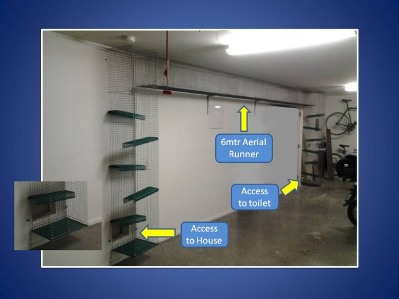 In picture above the the house is upstairs, the cats come down the stairs on the other side of the wall, and then enter the Vertical Runner on the left through a access hole in the wall, then proceed up to the ceiling and along 6 mtr of Aerial Runner then down another Vertical Runner to another access hole that takes them to there toileting area.
Recommended Free Download...
This free 12 page report is full of pictures and ideas to help you plan and decide on the right cat enclosure and cat run, to suit you, your cat and your backyard.
---
Sign up to get your
---
Related Products
Ground Runner
Aerial Runner
Vertical Runner
Home