Palace Cat Enclosure
Being a large area 2.65 x 1.76 mtr it is great for multiple cats, that get along together or are not so friendly towards each other. This Cat Enclosure is big enough for about 4-5 Cats while giving them frolicking area amongst small shrubs and trees or additional toys, litter trays, bowls and potted plants.
The palace kit has 2 dividing wire mesh panels which creates 3 individual sections with a daybed and 2 steps to get to the bed in each section. Or if your cats get along the bays can be linked up with access holes.
The kit contains the 1 x Palace, steel frame door, 3 x day beds, 6 steps, assembly clips, PDF instructions and ground pegs to secure it in place. We also have optional extras available including, clear polycarbonate roofing, extra day beds and steps.
The Palace can also be purchase as a basic kit that comprises of the cat enclosure without the day beds and steps. This is great if you are after a outdoor cat enclosure kits that you would like to design the internal structure yourself. We also have smaller version called the Slimline Palace cat enclosure, it is the same length but only 900 deep, great for narrow areas along the side of your house.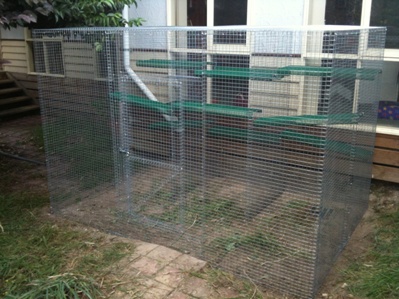 The Palace is also expandable it can be made to any length that you require. Start with the basic and add areas over time. Want to attach a cat run? No problem. Want to increase the area your cat has to roam around? Just add another section.
You can add a specially designed Runner (tunnel) that connects to a window of your home. Any time that your cat wants to be outdoors they, simply head down the runner and into their own outdoor area. Likewise, when your cat has had enough of fresh air and watching the birds, it's up the tunnel and back indoors to pester you for food.
Product Specifications
Palace Eco Kit 635.00 (economy kit)
Heavy Duty Galvanized Welded Wire Mesh
Wire Mesh: 25x25 mm Squares x 2mm Diameter
Overall Size: 2650 L x 1760 D x 1760 H mm
Door Opening Size: 1200 H x 510W mm
Economy Kit Contains: 1 x Palace enclosure, C-clips for assembly, Ground Pegs and PDF Instructions.
Complete Kit Contains: 1 x Palace enclosure, 3 x Rectangle Day Beds, 6 x Steps, C-clips for assembly, Ground Pegs and PDF Instructions.
Optional Extras
C-clip Pliers (for enclosure assembly)
Weather Proof Roofing
Flat Roofing (clear polycarbonate)
Gable Roofing (timber or clear polycarbonate)
Recommended Free Download...
This free 12 page report is full of pictures and ideas to help you plan and decide on the right cat enclosure and cat run, to suit you, your cat and your backyard.
---
Price List Download
Price List

Related Products
Cat Enclosures
Gate House Enclosure
Watch House Enclosure
Fortress Enclosure
Slimline Palace Enclosure
Castle Cat Enclosure
Used Cat Enclosures