PRE LOVED CAT ENCLOSURES
If you have one of our Cat Enclosures that for some reason you no longer need then you can advertise it here at no cost to you.
Posted: 4.3.15
Good As New! Fortress, Watch House, Gate House,
Toilet Module, Sleep Box, Aerial Runners And Vertical Runners.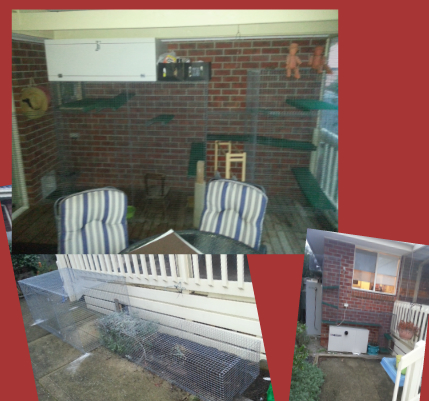 Fortress, Watch House, GateHouse, Toilet Module
and Runners. - AS GOOD AS NEW
YES YOU GET ALL THIS IN THE PICTURES!! The Toilet Module Is Out Of Sight.
$995.00 the lot. SOLD
GOOD AS NEW
Buyer To Disassemble.
Healesville
Email: SOLD
---
Posted: 28.11.14
Brand New !!! Slimline Palace, Timber Box and Ground Runner.
SOLD...

Slimline Palace Kit with Timber Box
and 1 Ground Runner. - All Brand New
never been assembled or used.
$600 the lot.
BRAND NEW
still in flat-pack kit.
Email: SOLD on the 27.1.15
* Picture is a sample, it does not include the polycarbonate roofing in picture.
Cat Kingdom Enclosures Keeping Your Cat Safe
Recommended Free Download...
This free 12 page report is full of pictures and ideas to help you plan and decide on the right cat enclosure and cat run, to suit you, your cat and your backyard.
---
Sign up to get your
Price List

Related Products
Cat Enclosures
Gate House Enclosure
Watch House Enclosure
Fortress Enclosure
Slimline Palace Enclosure
Castle Cat Enclosure
Palace Cat Enclosure
Cat Enclosures
Cat Enclosures Home