Gate House Mini Cat Enclosure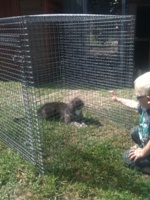 We are pleased to be adding a new cat enclosure to our range, it is a 90 x 90 x 90 cm high enclosure. It is a smaller version of the Gate House being half the size it can be easily moved around your backyard.

Or you may want to add a new area for you existing outdoor cat enclosures. you could have it tucked away in the bushes or to the other extreme it can go on the roof of you veranda or carport, giving your cat an awesome lookout point.

Being only 90cm high it will go on a inner city balcony without protruding above the hand railing. There is enough room for 1 Day Bed Platform and 1 Step, as well as the essential products for you feline. This size enclosure is great for 3-4 kittens or an older cat that does a lot of sleeping during the day, or if you would like to get your indoor cat outside for a few hours during the day.

If you have the room you can have them spread out amongst your garden and link them all up with some runner (tunnel). The runner can be some ground runner made with wire mash from your hardware store and some ground pegs to secure it down, or nail the mesh to a plank of wood to create a runner (tunnel).




You can also add some synthetic grass for you cat to lay on and water proof roofing if it is out in the weather. The access door can just be seen on the front of the enclosure in the picture above. They can be stacked 1 on top of the other, side by side or they can be put some distance apart and linked up together with some runner or just use as a sleeping quarters. At a convenient price of $170 for the economy kit or $200 for the complete kit it is a good way to get things started with your very own cat enclosure run in your backyard.

You may also want an extra step to give your cat plenty of platforms to choose from. A litter box enclosures with a lift up lid connected to the side of the Gate House will make it easy for the litter cleaning. The access door has been made as big as we can get it while still allowing the option for a step platform to be fitted, the door has 2 latches to look the door they are sturdy and will not wear out unlike the spring type latches.

This enclosure is perfect if you have a kitten or 2 that needs somewhere safe to be while outside during the day. It can also be set up inside the house, if you need to settle your cat down during the night while you sleep, or you can use it to confine an injured or sick cat.




The 2 pictures above do not have any platforms (Day Bed and Step) installed making the cat enclosure very uninviting for you cat the platforms make the extra levels that get your cat off the ground for a more luxurious environment. The door can be locked with 2 small padlocks if you prefer to add that extra security and peace of mind. The Gate House Mini is available in kit form with easy assembly that takes around 5 minutes to assemble your DIY cat enclosure, or if you are local it can be purchased assembled for a small fee.



Click the button below to download the price list!





Recommended Free Download...
This free 12 page report is full of pictures and ideas to help you plan and decide on the right cat enclosure and cat run, to suit you, your cat and your backyard.
Recent Posts
Litter Box Enclosure
Plants Toxic To Cats
Download
Price List